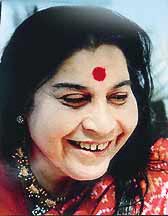 Sahaja Yoga
follows the Indian system of mapping the energy flow in the body through
nadis
or channels. According to this theory, prana or vital energy enters our body through the three channels of
ida
,
pingala
and the
sushumna
, which run alongside the spinal cord.
Ida
or the moon channel is on the left,
pingala
or the sun channel is on the right and
sushumna
is the central channel. According to
Nirmala Devi
, when the foetus is two to three months old, a column of rays of consciousness from the Higher Power passes through the developing brain to enlighten it, which gets refracted, into these channels. Entering through the fontanelle bone (the seat of the
sahasrara
chakra), the energy passes into the medulla oblongata where it leaves a thread-like line and settles at the base of the spine in three-and a-half coils. This is the
kundalini
. On its way down, the rays activate six more centers, adding up to the principle seven chakras running along the spine, regulating the activities of adjacent organs. The right-hand side of the body is governed by the
pingala
, the activity center of the body, creating the ego (equivalent to the left brain). The left-hand side is governed by the
ida
and is the seat of the subconscious (right brain).
When the
kundalini
is awakened, which Mataji says can be done by anyone whose own
kundalini
has been awakened, it heals and balances the over activity of the right and left sides. "In
Sahaja Yoga
our dormant spirituality is awakened to achieve true meditation. We are completely alert, yet our thoughts are slowed down and the mind is silent. Our hearts are full of joy and love but we are emotionally detached from what is going on around us."