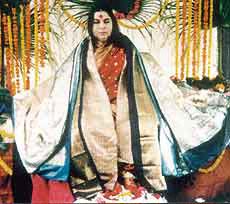 Mataji asks: "Others say that they give self-realization, but what is the proof of that?" Her own, she says, can actually be felt within the palms of the hand and on the crown of the head as well as experienced as peace.
I wonder if vibrations could not be created by fervent expectation and desire, just as the speaking with tongues is a unique manifestation of the Pentecostal faith? Man, after all, makes his own reality. And the common collective experience of a group is no more proof that it is the only way, than the common human experience of being bodies disproves our spiritual identity. Both are only beliefs created by our own certainty about it.
To do Mataji credit, however, she reserves her ire for those gurus who she feels take money for self-realization, or mislead their disciples in other ways. She says categorically: "It's a living process, you cannot pay for it. It's your own power which will be awakened." She also contends that once the
kundalini
is awakened, an individual feels all knowledge at the tips of his fingers. "When you encounter a bad person or a cheat, your fingertips begin to burn."
The lady herself is said to have "opened
sahasrara
chakra of the universe" at a beach in Nargol, near Mumbai on May 5, 1970. She describes the experience of merging with the divine as a feeling of cool rain falling upon her. Subsequently, she realized within her the power of raising mass consciousness. The
Sahaja Yoga
people have a portfolio of photographs, accessible on their website, which shows blinding light or energy emerging from her or surrounding her. Subsequently,
Nirmala Devi
started her ministry across the world. But she is no
sanyasi
(nun). She is the wife of a top bureaucrat, Sir C.P. Srivastava, whose illustrious career culminated as the Secretary General of the UN Maritime Organization. Her two daughters are married and she has just become a great grandmother.